Funding to Support Faculty- and
Graduate Student-mentored Undergraduate Research Teams
Cornell Atkinson Center for Sustainability is supporting faculty-led summer opportunities for undergraduates conducting sustainability research, structured as a pair of undergraduate researchers mentored by a graduate student and faculty principal investigator. By offering this tiered mentorship structure, proposed projects are intended to prepare undergraduates to conduct independent research in a collaborative environment.
---
How to Apply
Eligibility:
Calls for Proposals:
Proposals Due Dec. 15, 2023
---
2023 Awards
Design & Testing of Wave Energy Converter Farms to Meet Grid-scale Electricity Demands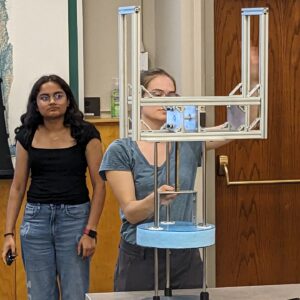 Energy derived from water waves is a potential new form of clean energy, but it requires the development of wave energy converters (WECs) in order to apply it for grid-scale energy. This project begins with building 2 WEC prototypes – (1) RM3 extracts energy from the vertical motion of waves (aka "heave"), and (2) RM5 extracts energy from the horizontal motion of waves (aka "surge"). Testing occurs in a simulated environment, the Long Stroke Wave Tank. After testing individually, the team will build a mechanism to allow testing of the 2 prototypes to be conducted simultaneously in order to study how their interactions affect overall power output. Experimental conditions will be adjusted by order, spacing, and control systems, and the data will be analyzed to understand how best to optimize overall power output.
Faculty Lead: Maha Haji, Mechanical and Aerospace Engineering
Graduate Lead: Olivia Vitale
Undergraduates: Aisha Brundan, Kavya Mittha
Quantifying the Formation of Lithium Resources for the Sustainable Energy Transition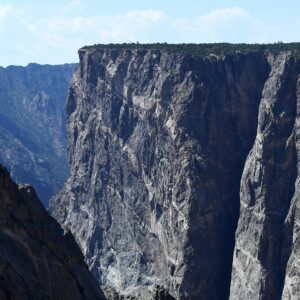 Accelerating the adoption of new forms of clean energy requires new geological resources to meet demand for the critical element lithium (Li). The World Bank estimates that by 2050, the demand for Li will quintuple 2018 production levels. The highest concentration of Li per ton of material is found in pegmatitic granite deposits, but little is known about the thermodynamic mechanisms that lead to high-grade, economically viable Li in these ore deposits. This lack of information hampers the ability to locate and identify new high-grade ore deposits. Team Holycross will conduct controlled experiments, with heat and pressure as variables, to measure these effects on the distribution of Li in granites. This information will enhance the accurate prediction of the distribution of Li resources.
Faculty Lead: Megan Holycross, Earth and Atmospheric Sciences
Graduate Lead: Odalys Callejas
Undergraduates: Alfredo Con, Gabe Larouche
Group-based Influences on Pro-environmental Beliefs, Attitudes, & Behaviors
In practice, most climate change communication efforts focus on providing the public with information, but informational approaches have been shown to have limited effect. Interpersonal communication, however, may boost effectiveness of information. Recent research shows that conversation with family & friends increases knowledge about the scientific consensus on climate change and belief in its human cause. Further, under some circumstances, group discussion can increase motivation for the adoption of mitigation policies and practices. However, the parameters of these conversations are poorly understood. Team McLeod will conduct focus group discussions with affiliates of the Cornell Lab of Ornithology and the Roman Catholic Diocese of Rochester to examine how two parameters – familiarity among interactors and rapport-building – affect: (1) changes in knowledge, beliefs and attitudes, (2) intentions to adopt carbon footprint reduction behaviors, and (3) actual adoption of these reduction behaviors. These data will help develop best practices for having constructive conversations about climate change.
Faculty Lead: Poppy McLeod, Communication
Graduate Lead: Luke Dye
Undergraduates: Beck Kerdman, Garrett Spillerman